Why a Pre-Owned Car Makes the Best First Car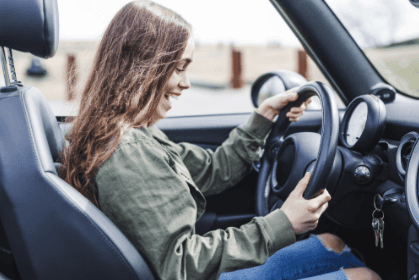 What makes the best first car?
There's a lot of debate around that question. Some people think that a new car is a good option. With auto sales reaching record levels in Canada, it's no wonder that they would think that way.
However, there are plenty of good reasons why a pre-owned car makes the best first car.
Sure, it's cheaper. But you'll be surprised to learn that there are reasons beyond cost savings that will convince you that a pre-owned car is the better option.
Let's get started!
The Real Cost Savings
The biggest cost savings isn't in the car prices between new and pre-owned. It's in the depreciation.
On average depreciation on a new purchase is 11% as soon as you hit the streets in your brand new car.
That's right. If you just bought a shiny new car for $30,000, you lost $3,300 in the car's value before you drive it home.
You can also lose even more money if you buy or lease a new car with the intention to trade it in for another new car five years later.
J.D. Power reports that the chances of a new car being underwater is greater between five and seven years. In other words, you'll still owe money on the vehicle.
On average, the amount still owed is $7,000 for a $35,000 car. That payment will just get rolled into your next car purchase, immediately increasing the value of your next new car.
Lower Car Value Means Lower Registration Fees
When you purchase a car with a lower value, your registration fees, and insurance costs will be lower.
That's because registration fees and insurance base their fees and premiums on the value of the car. The higher the value, the higher the costs. The lower the value, the lower the costs.
You'll Still Have Peace of Mind
One of the biggest arguments for a new car being the best first car is peace of mind.
The argument says that because you're driving a new car, the less you'll have to worry about maintenance. People also say that you'll spend less on maintenance than you would with a used car.
There's also a concern about whether or not cars are still covered by a warranty. It's a valid concern if you're buying a car directly from Craigslist. In that case, you just don't know what you're buying.
At House of Cars, we take the guesswork out for you. Every single one of our vehicles has a warranty option available. Not only that, we offer CarProof and a vehicle mechanical fitness inspection.
Today's Cars Are Made Better
The fact is that today's cars are cheaper to produce. Does that mean that the quality has suffered, too?
Not at all.
The common misconception is that because today's cars have more electronics, the more problems they have.
Today's cars are actually more reliable. J.D. Power reports that small to mid-sized cars are5% more reliable than just a year ago. The quality of the vehicle lasts longer, too.
The cars built today are also faster. The average horsepower of a vehicle has doubled in the past 40 years.
Ultimately, a car's reliability is your responsibility. A car that's regularly maintained according to the manufacturer's guidelines will be more reliable.
You Can Upgrade Your Purchase with a Pre-Owned Car
You did your budgeting homework before you decided to buy your first car. You figured out that you have a budget of $20,000. There are plenty of new models you can buy for that much. They tend to be in the compact/economic category.
If you buy pre-owned, you can drive off in a better car. You might be surprised to learn that you can get a Mercedes-Benz or BMW.
A Pre-Owned Car Is Greener Than You Think
What's more environmentally friendly, a brand new hybrid or a pre-owned car?
Believe it or not, a pre-owned car is more sustainable.
That comes down to the fact that there's a higher economic impact to manufacture and ship a vehicle. Studies by Toyota and Seiki University in Japan have found that between 12-28% of a vehicle's carbon-dioxide impact happen during manufacturing and shipping.
The remaining C02 emissions happen when the car owner takes over the vehicle.
So what about that new hybrid? Well, its battery and engines both have a greater manufacturing requirement. Thus, manufacturing emissions are going to be more for a hybrid than a standard transmission vehicle.
Either way, you're still going to be consuming fuel. That's going to be the case even if you have a fully electric vehicle. The only way you won't be consuming fossil fuels is if your car is recharged at a renewable energy source.
If you want to know that you're getting the best fuel economy, track it. The Natural Resources Canada's Office of Energy Efficiency is an excellent resource, too.
Your Rights When Buying a Pre-Owned Vehicle
If you're still wary of buying a pre-owned vehicle, you do have rights in Canada. Canada doesn't have lemon laws to protect consumers the same way consumers are protected in the U.S.
That's true whether you buy used or new. If you buy a new car and it's defective, your only recourse is to hope the manufacturer takes part in the Canadian Motor Vehicle Arbitration Plan.
For a pre-owned vehicle, we take the worry away with our top-rated customer service.
Make Sure You Get the Best First Car
There are many convincing reasons why a pre-owned vehicle makes the best first car.
Not only are you saving money on fees and depreciation, you're making an environmentally friendly choice.
With a used car, you can find a model or option that may no longer be produced.
Plus, at House of Cars, we work with people who have good to not-so-good credit histories. Our inventory ranges from luxury cars to economic vehicles.
We've won top pre-owned and used car dealership awards from Top Choice Awards, Calgary Metro Community, and the Calgary Herald Reader's Choice Awards.
Start shopping for your best first car today!